All the members of the Alliance Française de Pasadena are invited to join the national events organized by La Fédération Alliances Françaises USA. If you're not certain if your membership is still valid, please contact us: afdepasadena@gmail.com
To buy your membership, click here.
All the following events are reserved to our members only.
***
Saturday, April 17, 2021
10am Pacific/11am Mountain /12pm Central/1pm Eastern
Federation of Alliances Françaises USA
In English
Janet Hulstrand will join us via Zoom to tell the story of how a lifelong love of the French language inspired the journey that led from her home in Minnesota along a winding path that passed through Paris, New York City, and Washington DC, and led eventually to Essoyes, a beautiful little village in southern Champagne that was the beloved summer home of the Renoir family.
She will also read from her recent book, Demystifying the French: How to Love Them, and Make Them Love You, and take questions from our audience. Aimed at first-time visitors to France as well as expatriates, Demystifying the French is designed to help readers avoid common mistakes, and get off on the right foot with the French. Five easy-to-follow essential tips "for even brief encounters" are followed by 10 chapters that go into a deeper explanation of French habits, manners, and ways of viewing the world. The tips are enlivened by anecdotes from the author's own path along the learning curve that leads to true understanding and appreciation of French ways. Reflections contributed by David Downie, Adrian Leeds, Harriet Welty Rochefort, and other well-known commentators on Franco-American cultural differences provide additional perspective and depth.
Hulstrand writes frequently for Bonjour Paris, France Today, France Revisited, and her blog, Writing from the Heart Reading for the Road; and her work has been published in the Christian Science Monitor and Smithsonian. Since 1997 she has taught "Paris: A Literary Adventure" for the education abroad programs at Hunter and Queens Colleges of the City University of New York; she also teaches literature and culture classes at Politics and Prose bookstore in Washington D.C., and has led book groups at the American Library in Paris. She is currently working on her next book, A Long Way from Iowa, a memoir.
This event will be on Zoom and is free for all Alliance Française members and invited guests of the presenter or publicist. Click here to register.
***
Carolyn Campbell was our guest at the Alliance Française de Pasadena on November 15, 2019. Don't miss this event!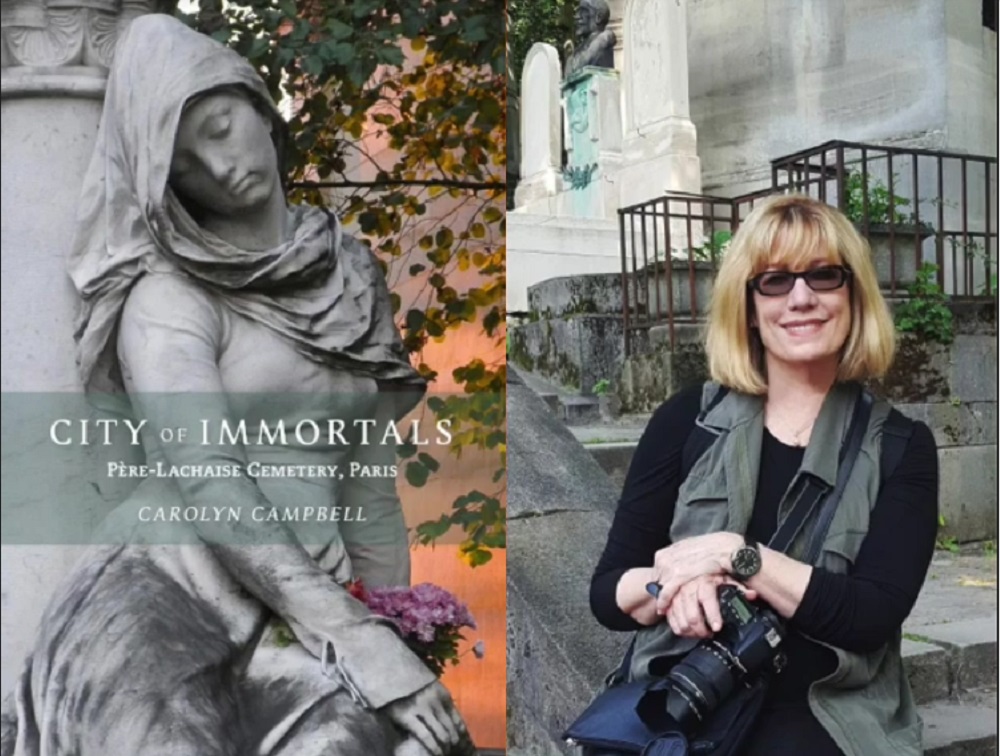 Thursday, April 22, 2021
4:00 pm PST / 5:00 pm MST / 6:00 pm CST / 7:00 pm EST
Federation of Alliances Françaises USA
In English
Join the Federation of Alliances Françaises USA for a fascinating insight into this important and popular Parisian site. The conversation will be moderated by Charles Coulon, VP of Alliance Française of DuPage County, IL and Federation Board Member.
About the book
This first-person account of a legendary necropolis will delight Francophiles, tourists, and armchair travelers while enriching the experience of taphophiles (cemetery lovers) and aficionados of art and architecture, mystery and romance. Carolyn Campbell's evocative images are complemented by those of renowned landscape photographer Joe Cornish. City of Immortals celebrates the novelty and eccentricity of Père-Lachaise Cemetery through the engrossing story of the history of the site established by Napoleonic decree along with portraits of the last moments of the cultural icons buried within its walls.
About the author
Writer and photographer Carolyn Campbell is a native of Washington, D.C., has lived in Paris and is now a resident of Los Angeles. A published author and exhibited photographer, her fascination with Père-Lachaise was kindled on a first visit to Paris in the early 1980s. Her research and photo documentation of the world-famous cemetery culminated in her debut book, "City of Immortals: Père-Lachaise Cemetery, Paris" named #2 on the Los Angeles Times Bestseller List and #1 on Amazon's Hot New Releases.
You can purchase signed copies of the book through the publisher Goff Books with a 20% discount through April 30, 2021. Visit https://www.goffbooks.com/product/city-of-immortals/ and use promo code lachaise at checkout.
This event will be on Zoom and is free for all Alliance Française members. Click here to register.