All the members of the Alliance Française de Pasadena are invited to join the national events organized by La Fédération Alliances Françaises USA. If you're not certain if your membership is still valid, please contact us: afdepasadena@gmail.com
To buy your membership, click here.
All the following events are reserved to our members only.
***
Pursuing the Dream: Living and Investing in France, with Adrian Leeds
January 23, 2021 @ 2:00 pm - 3:00 pm EST
Free for our members.
Saturday, January 23, 2021
11:00am Pacific/12:00pm Mountain/1:00pm Central/2:00pm Eastern
Federation of Alliances Françaises USA
In English with some French vocabulary
If you've had even a glimmer of an idea to enrich your life with a move to France – whether living full-time or part-time in the Hexagone – this is your opportunity to learn the steps to help make the dream come true. In this one-hour session on Zoom you'll get the inside scoop from moving-to-France and property expert, Adrian Leeds. Adrian has lived in France for over 25 years; her expertise has been featured on House Hunters International. She understands the ins and outs of finding an apartment to rent or a home to buy anywhere in France (not just Paris). In this session she'll discuss getting a visa, determining where in France you might want to live, and the steps to finding the perfect home. The session will also include an open forum for questions.
Adrian Leeds: French property expert, HGTV personality, published journalist and author, events coordinator, marketing, public relations and communications expert, Adrian Leeds arrived in Paris in 1994 with more than 21 years of experience in marketing and public relations, not to mention a daughter. In her need to survive in the City of Light as a single mother, she created a variety of businesses devoted to assisting other expats in their quest to fulfill their dream to live in France. Her company, the Adrian Leeds Group, is a licensed real estate agency offering complete property consultation services primarily for North Americans and other Anglophones wanting to live and/or invest in France. Photo credit: Paul de Burger.This event will be on Zoom and is free for all Alliance Française members. Click here to register.
***
Pamela Druckerman presents Paris by Phone:
February 6 at 10 am: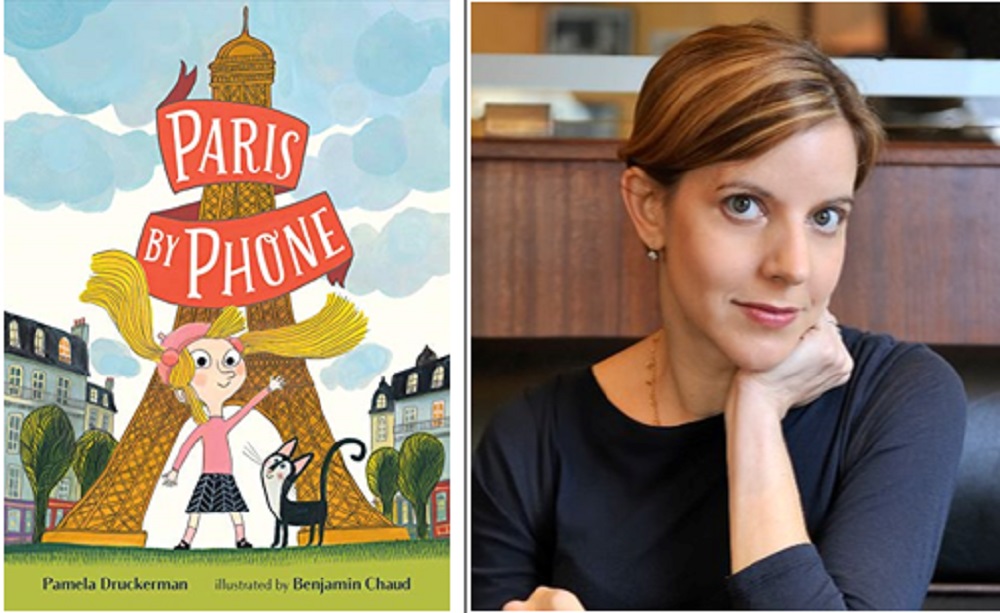 Author and journalist Pamela Druckerman joins us via Zoom from her home in Paris to present her new rhyming picture book Paris by Phone, and discusses the myth of the American in Paris.
For many Americans, Paris isn't just a place – it's a solution, an idea of perfection and the ultimate Plan B. In her new children's picture book Paris By Phone, Pamela Druckerman explores this through the story of one little girl. Josephine Harris is an ardent young Francophile who decides that Paris is where she really belongs. She even manages to travel there, using her magic phone. But then, oh là là! Despite the lovely things she saw, Josephine feels a certain je ne sais quoi.
Pamela is a contributing opinion writer at The New York Times and author of the best-selling Bringing Up Bébé. She'll join us for a lively discussion about the genesis of her new book, her own experience as a Parisienne, and the history and meaning of the American-in-Paris story.
This event will be on Zoom and is free for all Alliance Française members. Click here to register.
***
André Nerman presents Molère, Décidemment Contemporain:
Sunday, March 7, 2021
11:00am Pacific
En français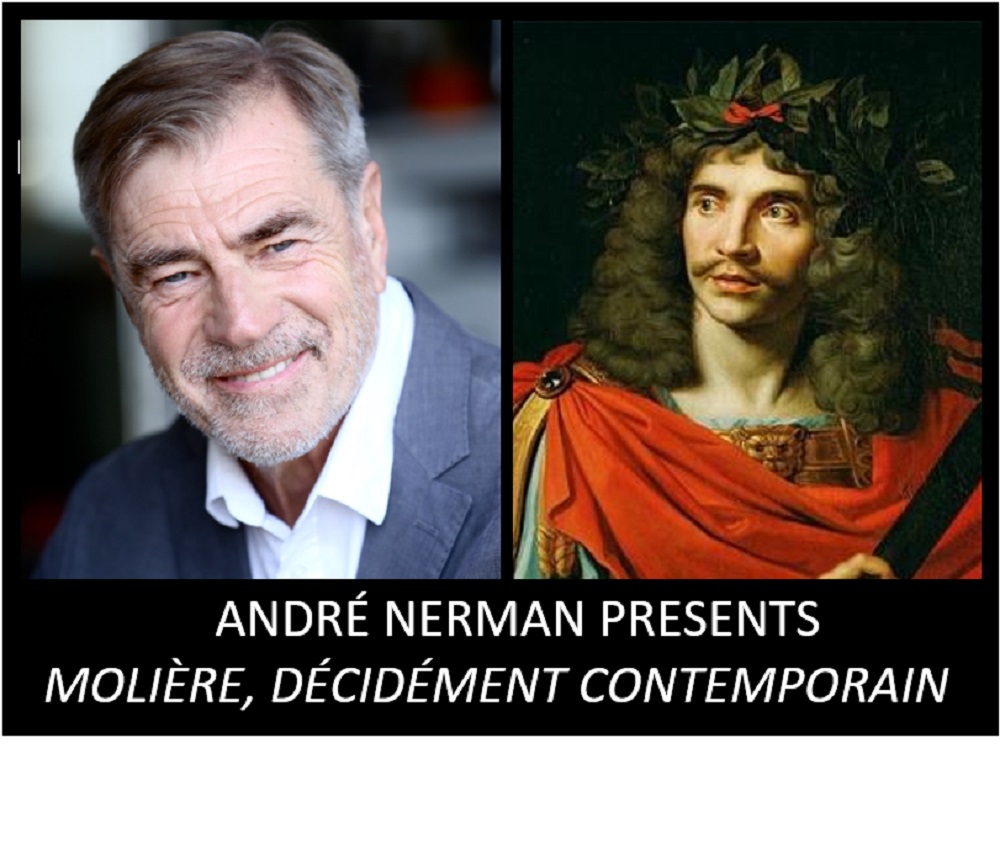 Join us for an exceptional online event with the talented actor and director, André Nerman, who is well known to the Alliance Française USA audience. André will share his in-depth knowledge of the great French playwright, Molière. This Zoom presentation will be in French and is suitable for persons with high-intermediate to advanced levels of French.
Retrouvez-nous pour une conférence exceptionnelle avec le talentueux comédien et metteur scène, André Nerman. Grand habitué de la scène des Alliances Françaises des Etats-Unis, André Nerman mettra son savoir au profit d'une conférence interactive sur le grand dramaturge français.
André Nerman : « Le génie de cet auteur, pourtant bien ancré dans son époque, a été de porter sans cesse un message universel dans l'observation critique de ses contemporains. S'il n'a jamais parlé de lui comme un esprit novateur Molière a profondément révolutionné le théâtre. Je vous parlerai de sa vie, de son œuvre, et des étapes marquantes de la façon dont ses pièces ont été interprétées par les metteurs en scène de notre temps. Nous verrons que quelle qu'en soit la lecture, la mise en perspective, les mots de Molière continuent de nous parler, toute génération confondue, de nous parler de nous… »
About the presenter : André Nerman a commencé sa carrière en interprétant des grands rôles du répertoire classique (notamment Roméo, Rodrigue du «Cid», Oreste d « Andromaque »). Parallèlement André joue des premiers rôles dans des séries télévisées. Puis il enrichit son expérience aux USA où il travaille régulièrement depuis. Il participe à de grandes tournées internationales, puis avec la Compagnie Caravague, il va signer de nombreuses mises en scène et organiser des tournées en Amérique du Nord. Il aborde ainsi un répertoire contemporain théâtral et poétique (Duras, Apollinaire, Prévert, Cocteau…) ainsi que des spectacles musicaux dont « Jacques Brel ou l'Impossible Rêve » qui restera plusieurs années à l'affiche à Paris et tournera dans le monde entier. En 2013, André traduit et met en scène la pièce « Un rapport sur la banalité de l'amour » de Mario Diament au Théâtre de la Huchette. La pièce est reprise en 2017 et 2018 au Festival d'Avignon et part en tournée en France, aux USA, au Canada, en Suisse et au Maroc. Il interprète lui-même le rôle de Martin Heidegger. Entre temps, il est engagé par John Mc Lean pour jouer dans « Blind Date » (Mario Diament), et il met en scène et joue « La Leçon » de Ionesco, « Huis Clos » de Sartre, une adaptation de « Terre des hommes » de Saint Exupéry et de « La chute » d'Albert Camus.
This event will be on Zoom and is free for all Alliance Française members. Click here to register.
This program is made possible through the support of The Jane M. & Bruce P. Robert Charitable Foundation. Jane Robert is a Past President of the Federation of Alliances Françaises USA.