All the members of the Alliance Française de Pasadena are invited to join the national events organized by La Fédération Alliances Françaises USA. If you're not certain if your membership is still valid, please contact us: afdepasadena@gmail.com
To buy your membership, click here.
All the following events are reserved to our members only.
***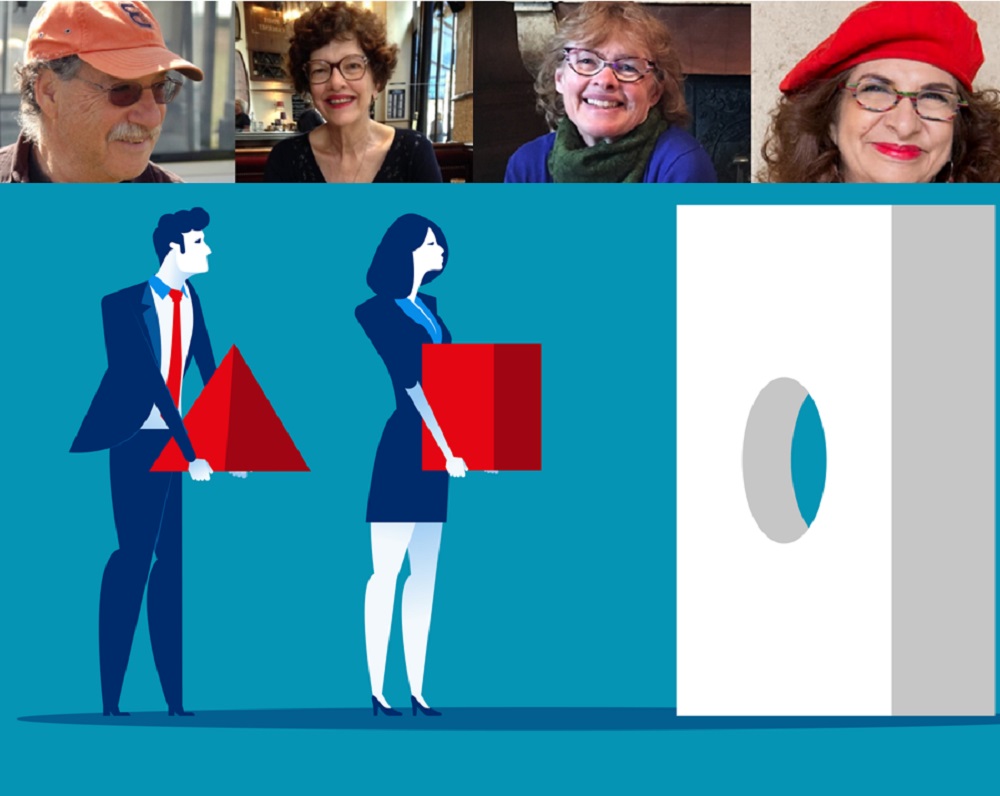 Saturday, January 29, 2022
10am PST / 11am MST / 12pm CST / 1pm EST
Federation of Alliances Françaises USA
In English
Following the success of our first "Demystifying the French: A Panel Discussion" event, we're pleased to welcome our panel back again for a continuation of their discussion on insights, perspectives, and experiences gathered over the course of many years of living, traveling, and/or working in France. Our guests will take questions from the audience about how to understand, appreciate, and best deal with the sometimes bewildering, often admirable, nearly always fascinating ways of the French!
Mark Greenside was born and raised in New York, and now lives in northern California. In 1991 he was dragged to a little village in Brittany by a girlfriend to spend the summer. He and the girlfriend fell out of love with each other, but he fell in love with the village, and to his astonishment ended up buying a home there, a rollicking adventure he recounts in I'll Never Be French (no matter what I do), described by the San Francisco Chronicle as a "fun and high-spirited read, and proof that one is never too old to find true happiness in life." In his latest, and equally entertaining (and helpful) book, he tells the continuing story of how he is (not quite) Mastering the Art of French Living.
Janet Hulstrand grew up in Minnesota, has lived in New York and Washington D.C., and has spent as much time as she can in France since her first trip there in 1978. Since 1997 she has taught "Paris: A Literary Adventure" for City University of New York study abroad programs; she also teaches literature and culture classes focusing on France for Politics & Prose bookstore. She writes for Bonjour Paris, France Today, and France Revisited, and is the author of Demystifying the French: How to Love Them, and Make Them Love You, which Jake Lamar called "a witty, wise, and keenly observed cultural handbook." She lives in the lovely little village of Essoyes, in the Champagne region, where she is working on her next book: A Long Way from Iowa: A Literary Memoir.
Adrian Leeds was born and raised in New Orleans. In 1994, she moved to Paris with her family for a one-year "sabbatical" and never left. Her company, the Adrian Leeds Group, provides a full range of property and consultation services for North Americans–– "French Property the American Way." She is fully committed to helping people realize their dream life in France, and has helped many hundreds of Francophiles to do just that. She is most well-known as the network's most popular real estate agent on the HGTV series House Hunters International. Since 2001 she has published Nouvellettres® (newsletters) three times a week that are a source of a great deal of practical information about living in France, as well as lively stories about her day-to-day experiences in Paris, Nice and beyond.
Harriet Welty Rochefort grew up in Iowa, bought a one-way ticket to France after graduating from college, and once she got there, never left. She is the author of three nonfiction books about the French: French Toast, French Fried, and Joie de Vivre, all published bySt. Martin's Press. Diane Johnson, author of Le Divorce, called French Toast the "gold standard" of books about the French, and the Los Angeles Times called it "wise and devastatingly funny." Harriet's latest book, published in 2020, is Final Transgression, a novel set in France during World War II, based on a true story from her husband's family.A bi-national,Harriet lives with her husband, Philippe, in Paris. They divide their time between their garden apartment there and their second home in Brittany.
This event will be on Zoom and is free for all Alliance Française members. Non-members or persons who have no AF chapter nearby can purchase tickets ($10). Please click here to register.
***
Saturday, February 12, 2022
11:00am Pacific/12:00pm Mountain/1:00pm Central/2:00pm Eastern
Federation of Alliances Françaises USA
En français
Joignez-vous à nous pour une discussion avec Luc Delambre, auteur de Servir la France napoléonienne à Washington; Lettres d'Amérique, Émilie et André Pichon-Brongniart 1801-1805.
Dès leur première rencontre, en octobre 1800, André Pichon et Émilie Brongniart décident de lier leur vie. Les nouveaux époux, qui se connaissent à peine, rejoignent les États Unis où André vient d'être nommé diplomate par Napoléon Bonaparte. Leur chemin croise ceux de Jefferson, Madison, Dupont de Nemours, Lafayette, Talleyrand, Toussaint Louverture, Napoléon Bonaparte et son jeune frère Jérôme. Rédigée avec sensibilité, la correspondance qui unit Emilie à sa famille offre un témoignage précieux sur les arcanes de la politique napoléonienne aux Amériques en même temps qu'elle révèle la grande liberté de ton d'une famille où règne la tendresse, l'énergie et l'humour.
Cet ouvrage ambitieux est le résultat d'un projet collectif de grande ampleur qui a nécessité de longues années de travail réparti sur plusieurs générations familiales. La source principale de l'ensemble est une correspondance exceptionnelle, précieusement archivée par la famille, qui a été intégralement retranscrite et analysée pour la mettre en lien avec les événements de l'époque.
Descendants de la famille Brongniart, Luc Delambre et sa mère Edmée Delambre ont exploité ce riche matériau familial et l'ont complété de multiples documents et souvenirs laissés par les personnages historiques de la période. Cela leur a permis de reconstituer une grande fresque américaine couvrant les 5 premières années du 19e siècle, fourmillante de vie, tout en visant de la rendre accessible et disponible au plus grand nombre.
This event will be on Zoom and is en français and free for all Alliance Française members. Non-members or persons who have no AF chapter nearby can purchase tickets ($10). Click here to register.
***
Saturday, April 2, 2022
11:00 a.m. Pacific / 1:00 pm Central / 2:00 p.m. Eastern
Federation of Alliances Françaises USA
In English
Cara Black, the bestselling author of 21 books, is a favorite presenter within the Alliance Française network—she's been captivating us with her great stories during meetings at our individual chapters for the past decade. We are pleased to welcome Cara back to talk about her latest book, Murder at the Porte de Versailles, the 20th installment of her Aimée Leduc series, each of which features a different arrondissement of Paris.
Murder at the Porte de Versailles: This riveting 20th installment entangles Parisian private investigator Aimée Leduc in a dangerous web of international spycraft and terrorist threats in Paris's 15th arrondissement.
November 2001: in the wake of 9/11, Paris is living in a state of fear. For Aimée Leduc, November is bittersweet: the anniversary of her father's death and her daughter's third birthday fall on the same day. A gathering for family and friends is disrupted when a bomb goes off at the police laboratory—and Boris Viard, the partner of Aimée's friend Michou, is found unconscious at the scene of the crime with traces of explosives under his fingernails.
Aimée doesn't believe Boris set the bomb. In an effort to prove this, she battles the police and his own lab colleagues, collecting conflicting eyewitness reports. When a member of the French secret service drafts Aimée to help investigate possible links to an Iranian Revolutionary guard and fugitive radicals who bombed Interpol in the 1980s, Aimée uncovers ties to a cold case of her father's.
As Aimée scours the streets of the 15th arrondissement trying to learn the truth, she has to ask herself if she should succumb to pressure from Chloe's biological father and move them out to his farm in Brittany. But could Aimée Leduc ever leave Paris?
Cara Black is the author of twenty books in the New York Times bestselling Aimée Leduc series as well as the thriller Three Hours in Paris. She has received multiple nominations for the Anthony and Macavity Awards, and her books have been translated into German, Norwegian, Japanese, French, Spanish, Italian, and Hebrew. She lives in San Francisco with her husband and son and visits Paris frequently.
This event will be on Zoom and is free for all Alliance Française members. Non-members or persons who have no AF chapter nearby can purchase tickets ($10). Please click here to register.